Rohto-Mentholatum Co.Ltd, it was founded in Osaka Japan in 1899, Established in February. Rohto is a No.2 medical and cosmetics company in Japan, the world's number (1) OTC eye drops and other medical and cosmetic products are being sold distribution in more than 150 countries around the world.
Rohto Company is a Japanese Company based in Myanmar Market, beginning in 1996 as V-Rohto Eye Drop came to the market. V-Rohto is now over 20 years old and everyone knows that V-Rohto Eye Drop is a because of its constant support from consumers.
The Cooperate Slogan which is followed by all employees throughout Rohto's world is "Never Say Never". Rohto's vision is "To Build the Product and Inspire Healthiest Community", and mission is "We are not selling the product", "We are selling the life style, fashion and health".
From September 2012, Rohto has been registered as a Rohto-Mentholatum (Myanmar) Co.,Ltd. with the Foreign Investment Committee in Myanmar and Currently Rohto Factory is starting to operate at (MIP) Mingaladon Industries Zone No.(5) Mingaladon Township Yangon. This facility will be available in the further with good quality and low cost.
Now Rohto-Mentholatum (Myanmar) Co.,Ltd. has opened Eye Care Center inside of Mandalar Hospital in Mandalay city and providing services with local and international professional Opthamologists by using their best treatment to adults and children. (to all people)
Rohto Office is located in Bahan Township, Yangon. Shwe Gone Daing Yuzana Tower, Room No (1110), the 11th Floor is open.
Mentholatum group is committed to practicing Rohto's philosophy especially by raising "ESH" as our core values, and contributing to customers/societies to be healthy and happy, at the same time, making ourselves, our employees to be healthy and happy
About the design
We have special attachment to the color blue and red.
Blue color represents "wisdom" while red color represents "passion" which we wish to become a company that combines both.
The history of Rohto has been created by our pioneers with ambition, determination, challenge and courage to do things that no one else would do. We have experienced over and over again successes and failures in our challenges, such as developing cosmetic products that are completely outside common sense and tackling difficult issues that are considered impossible to solve.
NEVER SAY NEVER spirit is embedded in Rohto's DNA. It is our declaration that we will continue to challenge the future. This phrase also expresses our 7 pledges, promising to work to support societies, endeavor to learn、share happiness of inspiring one another, and realize and be grateful that such efforts make a difference in the society.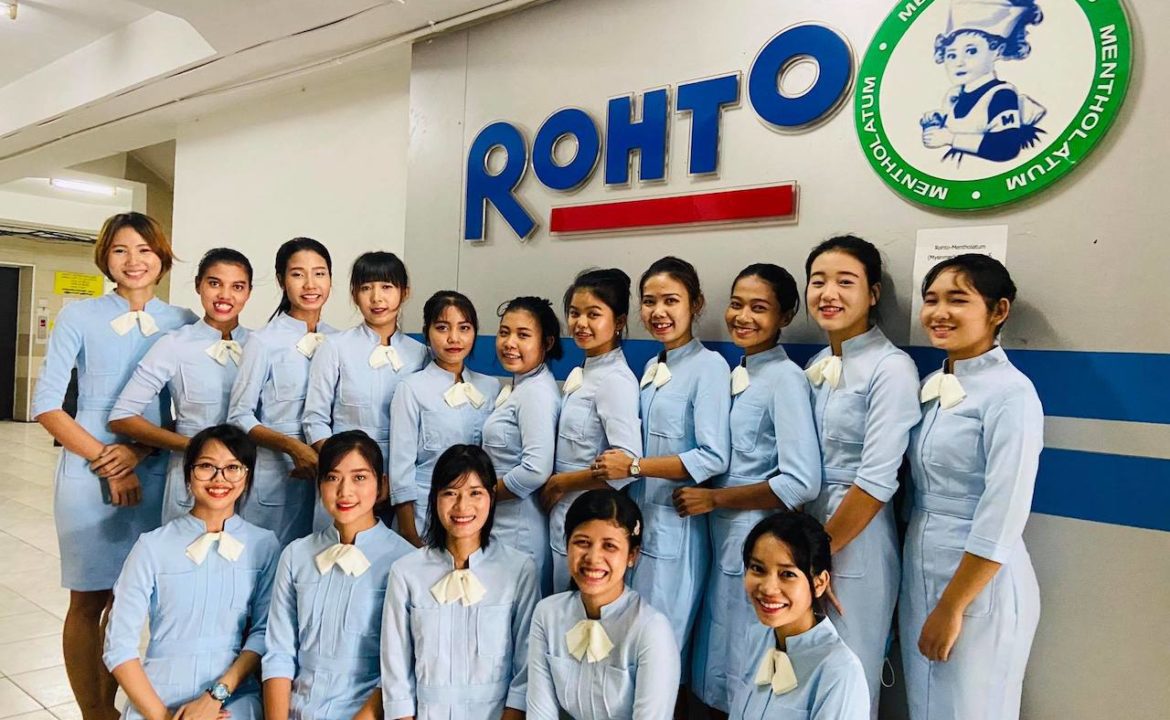 Rohto's Seven Pledges
We work wholeheartedly to support society, to help create a better world.
To this end, we are resolved to learn with humility and strive continuously toward self-improvement.
We place the highest importance in earning the trust and respect of our colleagues and our external business partners.
We take pride in our corporate culture that fosters lofty ideals, stirs passionate debate, and generates energetic actions.
We delight in constantly challenging each other to create waves of happy surprises for our customers worldwide.
Our people are our greatest asset. Our hard working culture, spirit of close cooperation, determination, passion, and leadership provide the fuel that drives the company.
We firmly pledge to serve the people, the society, and the environment, and are thankful for our meaningful existence.
| | |
| --- | --- |
| Foundation | February 22, 1899 |
| Incorporation | September 15, 1949 |
| Capital | 6,446 million yen (as of March 31, 2019) |
| Main Business | Manufacturer and marketer of pharmaceutical products, cosmetics and functional foods |
Our Credo
We will try to improve Ourselves.
We will try to improve our Departments better.
We will try to improve our Organization better.
We will try to improve our Environment better.
As the saying goes, "Health is a big bribe". Everyone must choose a healthy lifestyle. Healthy Youthful beauty practice and Habits that we also need to nurture our environment. For this purpose, the motto of Rohto-Mentholatum (Myanmar) Co., Ltd, "We are not selling Product. We are selling Lifestyle, Fashion, Health and Habit". We will intend to make it happen.
Healthcare Business in Japan
Since the launch of gastrointestinal medicine Ikatsu in 1899, Rohto has offered high value-added OTC medicines (non-prescription drugs), beauty products and supplements that only we can create, while responding to our customers' needs.
In the eye care category, sales of our OTC eye drops account for more than 40% of the Japanese market. Rohto contributes to maintaining healthy eyes and preventing eye diseases by providing eye drops and contact lens care items that take various needs in advance. In the category of oral medicine, we create products such as gastrointestinal medicines, herbal medicines and supplements that are trusted across various generations, with our motto "creating highly effective products with ease of ingestion and use" in mind.
For skincare, we have developed number of products from Mentholatum Ointment used at household around the world for more than 100 years to functional skincare using novel ingredients and formulation technologies.
Since 2009, Rohto has been offering episteme, a skincare brand based on concentrated wisdom of Rohto and advanced technologies. We also run beauty counters Rohto Beauty Health Science where our "beauty and health" services are introduced directly to each customer by Rohto's expert consultants.
At the counter, episteme and Obagi branded products are sold; and products continue to be created with history and experience of Rohto, where we have been seeing beauty from within and outside, together with leading information and skills accumulated at clinics and salons.
More information provided in Japanese about our brands sold in the Japanese Market.